Are you a home improvement contractor looking to improve your sales skills and close more deals? Closing deals is an art form, and it requires finesse and strategy to succeed. In this newsletter, we'll discuss the art of closing deals and provide tips and tricks to help you become a master closer.
We understand that as a home improvement contractor, you're passionate about providing quality workmanship and improving your clients' homes. However, in order to grow your business and succeed in the industry, it's essential to have strong sales skills and the ability to close deals effectively.
Our team of experts has years of experience in the home improvement industry and has helped countless contractors improve their sales skills and close more deals. In this newsletter, we'll share our expertise and provide actionable tips and strategies to help you close deals and grow your business.
Whether you're a seasoned contractor or just starting out in the industry, our tips for home improvement contractors and advice will help you take your sales skills to the next level. So, sit back, relax, and get ready to learn the art of closing deals.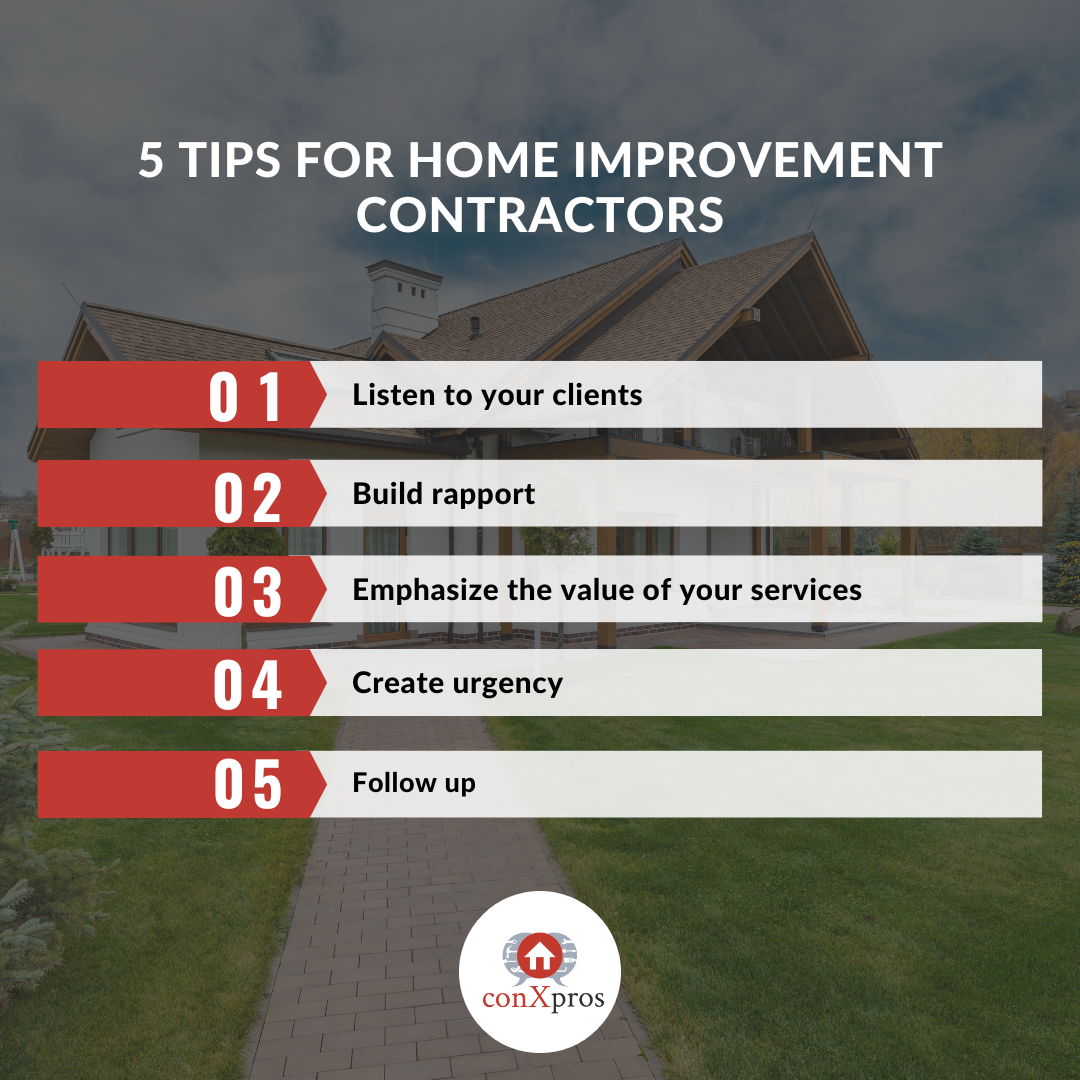 Tip #1: Listen to your clients
Listening is an essential skill for any home improvement contractor. When you take the time to listen to your clients, you show them that you value their input and are committed to understanding their needs. This can help you tailor your approach to each client and create a proposal that meets their specific needs.
To be an effective listener, make sure to ask open-ended questions and encourage your clients to share their ideas and concerns. Take notes during your initial meeting to ensure that you don't miss any important details. Check out this article by Forbes on how to be a better listener. 
Tip #2: Build rapport
Building rapport and staying connected with your clients is a critical part of the sales process. When you take the time to get to know your clients, you establish a relationship based on trust and mutual respect. This can make them more likely to choose you for their home improvement project.
To build rapport with your clients, take the time to learn about their interests and hobbies. Show a genuine interest in their project and ask questions to understand their vision. Be personable and approachable, and don't be afraid to share a little bit about yourself as well.
Tip #3: Emphasize the value of your services
As a home improvement contractor, you offer a valuable service that can greatly improve your clients' homes and quality of life. It's essential to emphasize the value of your services and how they can benefit your clients in the long term.
To do this effectively, highlight the specific benefits of your services, such as energy efficiency, increased comfort, and improved aesthetics. Use examples of previous projects you've completed demonstrating the value you can offer. Be sure to also explain any warranties or guarantees you offer to give your clients peace of mind.
Tip #4: Create urgency
Creating urgency is a powerful tool in closing deals. When you offer limited-time promotions or discounts, you encourage your clients to act quickly. This can help you close deals more efficiently and grow your business.
To create urgency, highlight the benefits of acting now. For example, explain that prices may increase in the future or that you have a limited number of spots available on your schedule. Be clear about the deadline for the promotion or discount and be sure to follow up with your clients before the deadline expires.
Tip #5: Follow up
Following up with your clients is crucial in the sales process. After you've presented your proposal, send a personalized thank-you note to show your appreciation for their time and consideration. Follow up with a phone call or email to answer any questions they may have and address any concerns they've raised.
When following up, be responsive and professional. Demonstrate your commitment to providing excellent service and be prepared to address any issues that may arise. By following up, you show your clients that you value their business and are committed to meeting their needs.
Closing deals is an essential skill for home improvement contractors. By listening to your clients, building rapport, emphasizing the value of your services, creating urgency, and following up, you'll be well on your way to becoming a master closer. Remember, closing deals is an art form – with practice and persistence, you'll soon be closing more deals and growing your business.
We hope you found some of these tips for home improvement contractors helpful! For more home improvement sales tips, check out our Sales Tip Center.  conXpros can also help your business generate more leads with our trusted lead generation system. Learn more about our lead categories here.