As a gutter contractor, it's important to constantly be looking for ways to reach more customers and grow your business. In fact, a recent industry trends report showed that the gutter services industry in the U.S. grew an average of 5.4% every year since 2017! From utilizing online marketing strategies to offering excellent customer service, there are a variety of techniques you can use to attract new clients.
In this blog, we'll be sharing 5 tips that gutter contractors can use to reach more customers and take their business to the next level.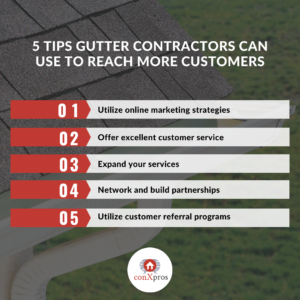 1.Utilize online marketing strategies
One of the most effective ways for gutter contractors to reach more customers is through online marketing. This can include creating a professional website, utilizing social media platforms, and implementing search engine optimization (SEO) tactics. 
Having a strong online presence allows potential customers to easily find and learn more about your business, which can lead to increased inquiries and bookings.
2. Offer excellent customer service
Providing excellent customer service and prioritizing customer satisfaction is crucial for gutter contractors looking to attract and retain more customers. This can include being prompt and reliable, providing clear and detailed estimates, and ensuring that all work is completed to a high standard. 
By going above and beyond for your clients, you'll be more likely to receive positive reviews and word-of-mouth recommendations, which can be invaluable in attracting new business.
3. Expand your services
Another way for gutter contractors to reach more customers is by expanding the range of services they offer. For example, you may consider offering roofing, siding, or window installation in addition to gutter installation and repair. 
This can help to diversify your customer base and make your business more appealing to potential clients. Just be sure to only take on services that you are fully qualified for and capable of completing to the highest standards.
4. Network and build partnerships
Networking and building partnerships with other businesses and professionals in your industry can also be a great way to reach more customers. This can include collaborating on projects, joining industry organizations, and attending events and trade shows. 
By establishing relationships with others in your field, you'll have the opportunity to gain valuable referrals and connect with potential customers.
5. Utilize customer referral programs
Implementing customer referral programs can be an effective way to not only reach more customers but to also reward your current customers for their loyalty. By offering incentives, such as discounts or rewards, for customers who refer your business to others, you can encourage them to spread the word about your services. 
This can be a cost-effective way to attract new business and show your appreciation to your existing customers. Check out our blog, "Top 7 Tips Home Improvement Companies Can Use To Get More Referrals," to learn our other referral tactics!
In conclusion, there are many strategies that gutter contractors can use to reach more customers. From utilizing online marketing and offering excellent customer service to expanding your services and networking, there are plenty of ways to increase your customer base and grow your business. By implementing these tips, you'll be well on your way to attracting more clients and building a successful gutter contracting business.
We hope you found some of these tips for gutter contractors helpful! For more home improvement sales tips, check out our Sales Tip Center.  conXpros can also help your business generate more leads with our trusted lead generation system. Learn more about our lead categories here.